Our Team
Comprehensive Sleep Medicine is a full-service diagnostic sleep center, specializing in the diagnosis and treatment of various sleep disorders ranging from obstructive sleep apnea and restless leg syndrome to insomnia and narcolepsy. Thousands of people fail to get tested for problematic sleep disorders each year due to the costs and inconvenience of overnight in-lab testing. That's why we're proud to be a leader providing patients with personalized diagnostic testing that improve their quality of life, often from the convenience of their home. Turn to our board-certified sleep specialist in Dallas, TX to take the first step toward getting a better night's sleep.
Learn More About Our Sleep Center
The American Academy of Sleep Medicine (AASM) accredited our center on May 1, 2007. Since then, we've gone through rigorous, thorough processes to keep our policies and procedures in alignment with theirs. Patients can be confident that whether we're evaluating their needs on-site or at home, they're receiving the gold standard in innovative sleep care.
We designed our clinic to make the sleep study experience as comfortable as possible for our patients. Our testing rooms resemble upscale hotel rooms and offer several comforting amenities, some of which include:
Ceiling Fans
Comfortable Blankets, Pillows, and Sheets
Flatscreen TVs
Private, Attached Bathrooms with Showers
Queen-Sized Beds
Seek treatment for your sleeping issues by seeking help from a board-certified sleep specialist through our specialized clinic. Undergo an in-lab or in-home sleep study to accurately evaluate your sleep and make any diagnosis and/or treatment recommendations that are appropriate.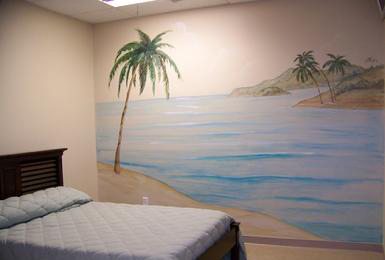 Offering In-Home Sleep Studies
Previously, diagnosing obstructive sleep apnea (OSA) required an overnight stay in a sleep lab or hospital. However, the Centers for Medicare and Medicaid Services (CMS) changed their national coverage determination to include in-home sleep testing for some patients for suspected OSA.
Now, our sleep center is proud to offer the latest in in-home sleep diagnostics. Our home sleep test devices can collect sleep data while you rest in the comfort of your own home. Speak with our office to learn more about this innovative diagnostic option. We look forward to helping you better the quality of your life.